A message from Day Piercy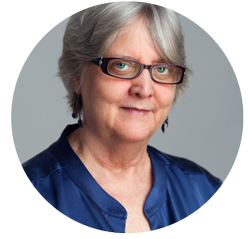 In 2016, we were poised to open a new path of women's leadership by shattering the glass ceiling and electing Hillary Rodham Clinton the first woman president of the United States. Instead, patriarchy's misogyny, racism and abuse rose to defeat her. Its power is in control now in the White House, Congress, the federal government and in many states and communities.
After the 2016 election, our work in the United States is more urgent than ever before to protect our democracy. We are called to build a society that honors, respects, values, welcomes, protects and nurtures all people, nature and the Earth, our home.
A new creative female voice, power and leadership is rising for this work. The words "creative female" refer to this historic lineage and patriarchy's obsession to control and suppress her. Your gender and the words in your lineage may be different. Our Creative Female project promotes and supports breaking silencing and expressing your true Self. All genders are welcome.
You have the power to make a difference. If you want to feel confident about the path you choose and fulfilled by the contribution you make, our guides and tools open your path and keep you moving forward.
I founded CreateNet Studio in 2016 to design and develop projects that create personal and community wellbeing. If you're facing the unknown, coping with confusion, feeling stuck and/or ready to leap into a new adventure, you'll get answers and direction.
As an experienced life coach, I've worked with hundreds of people to move through confusion, find clarity and move forward in their lives.
As an activist and public policy consultant, I've developed a successful consulting practice and worked with people to create social change in women's rights, jobs for the poor, services for people who are homeless and to improve HIV/AIDS care.
I've facilitated initiatives to develop services for families, to build community collaborations for child welfare and to protect victim survivors of domestic violence. I've managed programs to develop neighborhood women's support groups and to create an organization to help women start a business.
As a leader of the working women's movement in the 1970s and 1980s, I learned first-hand what it takes to build a movement. In 1973 I founded Women Employed, an advocacy organization where I served as executive director for a decade. In our work with organizations throughout the country, women achieved unprecedented breakthroughs and expanded equal pay. Women Employed too has won millions of dollars in back pay, opened career paths and education opportunities for thousands of black, white, Latina and Asian women.
My activist life is rooted in childhood that forged a commitment to work for freedom, economic and social justice. I am a victim survivor of sexual violence, clergy sexual abuse by a Catholic priest and my own Methodist minister, and child sex trafficking. When I was nine years old, I figured out a way to free the other children and myself and shut down a gang's child sex ring.
I know first-hand the power to keep going in the darkest times and to overcome adversity. I know what it takes to move forward out of trauma and difficulties and into a new life. I believe that both dark and light are present now and that we have a unique role in living and expanding the light that offers an alternative to darkness.
The light today is our self-care and our care for each other, our advocacy, our connection to our personal passions and to a life of service contributing our gifts. Working together, we will build a society that honors, respects, values, loves, welcomes, protects, and nurtures all people, nature, and the Earth our home.
Subscribe to our weekly blog with tips, tools and guides to:
• Navigate your life transition
• Create your unique life with your special gifts
• Discover your inner creative female voice, power and leadership
• Make a difference in your community.
• Imagine and create new ideas and possibilities
Our Create Your Life project offers tools that will give you what you need to overcome barriers, move forward with confidence and create your life of meaning and purpose. You'll feel fulfilled and know that you are making a difference.
We'll also show you how to make an impact in your local community. Our Community Wellbeing project gathers information about local work and ideas about what you can do too. Learn more
Join our community of likeminded people who are creating our lives in challenging times to build a caring economy and society. Subscribe to the CreateNet blog to receive tips, tools and guides to support you on your life journey to fulfill your special gifts and make your contribution. Society needs you.
I'm passionate about living a life of meaning and purpose and in supporting you on your life journey to create a life that works for you. I look forward to working with you.
Welcome to our creative community.